Headless Way: A Four Week Course with Richard Lang
"I feel so woke! the transformation is real and cant wait to come to the next ones" - Anthony
Richard Lang has been giving Headless Way workshops for over forty years. During this course of four Tuesday evening workshops he will guide participants through a range of awareness exercises (the Headless Way experiments) that direct attention to your wonderful True Self, the boundless, timeless awareness that you really are.
Headless Way is growing in popularity as an astonishingly simple way to notice fundamental truths about your experience, which for some people can be both thrilling and liberating. In a series of deceptively simple experiments and awareness exercises, you will have the chance to see for yourself what mystics throughout the ages have always pointed to
Four consecutive sessions means that participants who have already done an evening workshop with Richard will experience many new experiments that approach our True Identity from new angles. (You don't have to have already done a Headless Way workshop to participate in this course.) You will gain a deeper experience and understanding of this direct way of seeing your True Self.
This course also means that during this four-week period participants will be supported in terms of bringing awareness of their True Self into their everyday lives. They will also meet others who are shining the light of awareness onto the Treasure of their True Self.
Richard looks forward to sharing this direct seeing of our True Self.
"Excellent, friendly, experiential, thought-provoking." - Thomas
CS Lewis called this approach "a work of the highest genius" and Sam Harris has mentioned it recently in both books and his podcast as a direct way of seeing 'that makes perfect sense to me."
The experiments were developed by the philosopher Douglas Harding, who wrote: "Though in essence the same as Zen, Sufism, and other spiritual disciplines, this way proceeds in an unusually down-to-earth fashion." Headless way claims you are more likely to see who you really are in a few minutes of experimentation than years of years of reading, meditation or traditional spiritual practise.
Instead of these, it uses a variety of simple, non-verbal, fact-finding tests, all of them asking: how do I look to myself?
"This is like studying Non-Dual meditation but without the pain in the but of long sitting meditation as many of the experiments are active and interactive. Great workshop and well presented."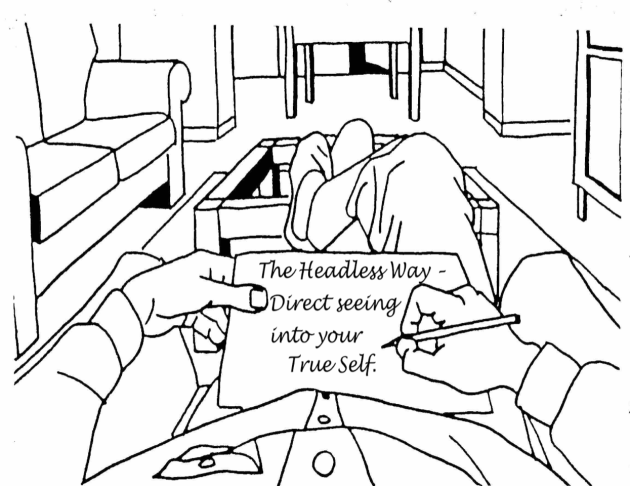 Course Details

Ticket prices: £50-80
Times and Dates: 7pm to 9pm Four Consecutive Tuesdays: 11th, 18th, 25th Feb and 3rd March
Doors open: at 18:45 and close at 19:05. To ensure the quality of the event, late comers will not be admitted
Enquiries: Please email amir@psychedelicsociety.org.uk
Refund Policy: We do not offer refunds or exchanges, but you can resell your tickets to friends, or on Ticket Swap
Access: Events at our Homerton space are up two flight of stairs, so we are sorry to say we do not yet have wheelchair access.
This event relies heavily on seeing. If you are not sure if this is suitable to you please contact us.
Our UK events are intended for a sober audience. We kindly ask that you respect this request.
This event is sold out
Missed out on tickets to Headless Way: A Four Week Course with Richard Lang? Join the waitlist, and if we are able to issue more tickets, we'll get in touch. We'll also add you to our mailing list so you hear about future events.
Join waitlist
Bought a ticket, but now can't make it?
List your ticket on Ticketswap